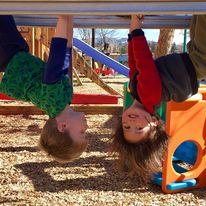 The Lynn Kelly Memorial Endowment Fund was envisioned by the La Casita Board of Directors both as a meaningful way to honor one of the school's Co-Founders and as an impactful use of the donations that arrived in her honor after she passed in March 2022.
The aim of the Endowment Fund is to create financial stability and relieve the stress of annual fundraising so that La Casita parents and teachers can do what they do best: nurture the next generation of children in a unique environment in which children are allowed the freedom to spend their days developing skills and becoming creative problem solvers at their own pace through play and exploration.
The Lynn Kelly Memorial Endowment for La Casita is supported by alumni, parents, grandparents and friends and will be managed by the Santa Fe Community Foundation.
In a time when many schools are focused on data collection and assessments at younger and younger ages, La Casita is a rare treasure offering families from all walks of life a way to maintain the joy and wonder of childhood in a cooperative environment that fosters a love of learning. Your gift today in any amount will help ensure the school's financial stability far into the future and help La Casita Preschool step into its next 50 years on stable ground.
Donate using the form on this page, or mail a check directly to:
La Casita Preschool
438 Alamo Drive
Santa Fe, NM 87501
Memo: Endowment Fund
For questions about the Lynn Kelly Endowment Fund or to find out how you can support La Casita, contact the Co-Directors at: lacasitapreschool@gmail.com.
La Casita Preschool is a 501(c)(3) non-profit organization celebrating over 50 years of serving children and families in the Santa Fe community. All donations are tax-deductible
---
La Casita would like to acknowledge the generous supporters
of the Lynn Kelly Memorial Endowment.
Anonymous
Janice R Balsam
Daniel Culbert
Alison & Christopher Cullen
Louis Grachos & Ann Kippen
Branwyn and Patrick Iverson
Langer Family
Sandra Levin
The Murphey Family
Mary Olson
Amy Sherman
Bruce and Peggy Sherman
Joan Sherman
Anjennete and David Torres
Leslie Van Pelt